From the leader in brake and engine management sensor technology
Our top-notch quality management team makes sure every part fits the first time. And live up to our 3-year/36,000-mile warranty. Here's the ugly truth behind auto parts pricing…
Whether you're buying an OEM part for $100+ or a brand-name aftermarket part for $95, or a Holstein Parts ABS sensor for $55— you're mostly getting the same part. There aren't a lot of secrets when it comes to making the physical sensor itself. Plus, most companies all work with similar (or often the same) factories, from aftermarket OEM parts down to the guys selling cheap-o imports on eBay or Amazon. But that does NOT mean they're all created equal. The difference is in the details, and that's why we invest in a top-tier, in-house quality management team.

Meet Paige, the data guru who guarantees a perfect fit
Because many factories know how to produce similar quality hardware, the BIGGEST differentiator actually comes down to "cataloging." Cataloging is the process of mapping each part to the correct application for the vehicle it's intended for. And it's where less-experienced companies often fail. But Paige heads up our cataloging department, and she's our secret weapon. She's a cataloging expert and obsessive about the details. Nothing gets by her. She and her team make sure that the data for every Holstein Parts sensor is updated in the ACES and PIES databases at all times. So the part you receive works as intended from the first moment.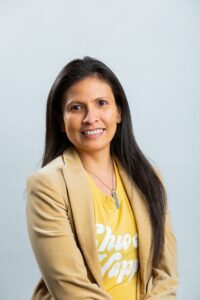 And meet Rhea, the QC guru behind one the lowest failure rates in the industry
Rhea is our quality control/product manager. She samples each production batch for strict compliance with 5 different points of comparison, ensuring each part is identical to the original manufacturer's part for form, fit, and function. Plus, each of our parts is date-coded. So in the rare case that a problem arises, Rhea can identify the batch immediately to stop sales while she and her team investigate.
If you've ever bought parts with electronic equipment from a low-quality manufacturer, you'll know it. The returns come back fast and furious. And you're buried in phone calls from frustrated mechanics or angry customers. But our defect rate at Holstein Parts is microscopic— less than 1.0%! That's because we start by choosing only the best factories to partner with. But ultimately, it's because Rhea and her team rigorously evaluate every part to ensure they work as promised. It's their hard work that inspires us to confidently offer an industry-leading 3-year/36,000-mi warranty on ALL of our sensors.
How do you guys do it?
That's a question we get all the time. What's the catch? How can Holstein Parts sell the highest quality parts, cover 93% of ABS sensor SKUs, 95% fill rates, prepaid freight, and industry-best support for up to 40% less than our competitors? There's got to be a trade-off, right? Well, actually, no.
It's pretty simple…we're a small, nimble company, and we're hungry to grow. Meanwhile, our big competitors are trying to rule the auto parts industry—spending a ton of money on marketing, sponsoring events, offices in Manhattan, a nationwide sales team, big-time executive salaries, and all of that jazz…
At Holstein Parts, we're focused on just two things— making the highest-quality sensors on the market and delivering the best service and highest profits to our valued partners.
That's why we like to say that our terms of service are written in pencil. If you need something— prepaid freight, a drop-shipped order, expedited shipping— we'll do all we can to make it happen for you. We may not be able to get you everything you want, but we'll never hide behind "company policy" or dodge your phone calls. Our job is to help make your business as successful as it can be.
Want to get the industry's best warranty, service, and profit margins?
Just send us a message, and let's talk. We often tell our customers— we're going to force you to make money. And that's truly our goal. At Holstein Parts, we don't measure our success by how many parts we ship. Instead, we measure success by how you feel about doing business with us.
Ready for a partner dedicated to growing your sales and profit margins?