High-tech, OE quality sensors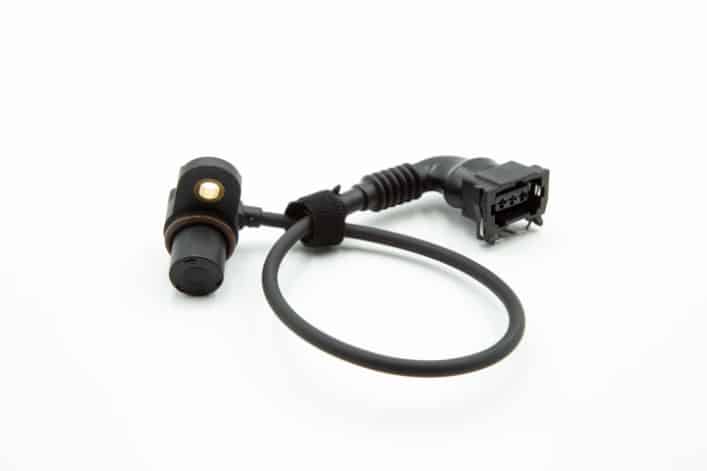 The Camshaft Position Sensor monitors the rotating position of the camshaft relative to the crankshaft position. This data is sent to the vehicle's ECU, where it is used to adjust the spark timing and the operation of the fuel injectors. There are two types of Camshaft Sensors, Magnetic, and Hall-effect. The Magnetic type produces its own AC (alternate current) signal (a sine wave), and you can identify it by its two wires. The Hall-effect type uses an external power source to produce a digital signal (a "square wave," on-or-off) and has three wires. For the engine to operate properly, the rates of the crankshaft and the camshaft need to be in sync with each other.
Holstein Parts focuses on using only the highest quality materials, manufactured to exacting standards for an aftermarket product that is truly built to match or exceed the OE part
Holstein Parts Camshaft Position Sensor line has superior coverage for domestic and import applications
3 Year / 36,000-mile warranty on all Holstein Parts Camshaft Position Sensors
What does a Camshaft Position Sensor do?
The Camshaft Position Sensor monitors camshaft rotation and the opening and closing rates of the valves/pistons. Camshaft Sensors work with Crankshaft Position Sensors to evaluate how the engine is performing.
Where is the Camshaft Position Sensor located?
The Camshaft Position sensor is usually located in the cylinder head of the engine.
Will a malfunctioning Camshaft Position Sensor illuminate the check engine light?
Yes. When the measurements of the Camshaft Position Sensor and the Crankshaft Positioning Sensor differ, it will trigger the Check Engine Light on the dashboard.
What are the common causes of failure?
Often, these sensors fail due to high temperatures.
How to determine if these sensors are malfunctioning:
An Automotive professional will use specialized tools to measure RPM and other data to determine if the sensor is malfunctioning.
What makes Holstein Camshaft Position Sensors the best?
Holstein Parts focuses on using only the highest quality materials, manufactured to exacting standards for an aftermarket product that is truly built to match or exceed the OE part
Holstein Parts Camshaft Position Sensor line has superior coverage for domestic and import applications
3 Year / 36,000-mile warranty on all Holstein Parts Camshaft Position Sensors
Product Spotlight
More than 330 SKU's covering 98% of the North American market
Manufactured with premium materials to ensure proper function.
Grommets, screws, and other hardware are included to ensure proper fit
Sealed Anti-Static Protective Packaging ensures that electrical components are not damaged during shipping
For more information about where to buy Holstein products or how to become a Holstein distributor: